Authors: David Schmutz & Dr. Mike Tomlinson DVM
The current pandemic has heightened the national awareness of mass infections not only to ourselves, but also to the animals in our care. In the equestrian world there has been aa avalanche of recent press devoted to the EHV-1 virus which has been reported as widespread in Europe. Many FEI competitions in Europe have been canceled in an effort to contain and lessen the effect of this virus. To understand this disease and its effect on showing, here are the facts
To understand this disease and its effect on showing, here are the facts about the virus:

What is EVH-1?
Equid alphaherpesvirus 1 (EHV-1), is a virus of the family herpesviridae that causes abortion, respiratory disease, neurological disease (EHM), and occasionally neonatal mortality in horses.

How is the Virus transmitted?
Horses can spread the virus from nostril secretions and also from secretions from coughing. Initial spread of EHV-1 by a newly introduced horse through direct and indirect contact. The virus can be airborne.

What are the symptoms?
Fever is the most common clinical sign of EHV-1. The symptoms associated with EHV-1 include manifestations such as decreased coordination, urine dribbling, fever, hind limb weakness, leaning against things to maintain
balance, lethargy and the inability to get off the ground. More signs of the infection of this virus include depression, anorexia, nasal and ocular discharges.

The virus varies in severity from sub-clinical to very severe. In some cases, it can be fatal.

Is there a Vaccine for EVH-1?
Unfortunately, none of the current EHV-1 vaccines carry a label claim for prevention of EHM. More research is needed to identify a vaccine that may prevent this form of the disease. Some of the EHV-1 vaccines have been
shown to reduce nasal shedding and, in some cases, reduce viremia. These products may therefore have some theoretical value against EHM by reducing viremia, and certainly against spread of the virus. 

How can the spread of EVH-1 be controlled?
To prevent the spread of EHV-1, there are a few steps that should be taken. Most important is to stop horse movement and transportation; not allowing horses that have been exposed to EHV-1 to be in contact with
unexposed horses; and to isolate animals that are showing symptoms of the virus. Ideally, horses that are showing symptoms should be completely quarantined. The recommended quarantined period is at least 21 days.

Is there a similar outbreak currently in the United States?
While there have been a few geographically disbursed cases this year, these seems to be no causal relation to the European outbreak. Some cases in Northern Florida have been reported during the beginning of March, 2021. There have been a few isolated cases in the month first two weeks of March in California, Kentucky, New York, Utah, Maryland, and Pennsylvania.

Nationally, this is a relatively routine occurrence. With any outbreak, the state and local regulating agencies will shut all activity down via quarantine when needed. They have done so in all cases cited here. With this in mind, it is crucial for owners and riders to assess the risks accurately and not be manipulated by reports of disaster.
EVH-1 has been a part of the agricultural landscape for some time. While regional outbreaks do occur, nothing on the order of the pandemic in Western Europe has been recorded here recently due to the rapid responses of State health agencies. With proper care and management of travel exposure, this virus can be managed domestically without the difficulties currently being experienced abroad.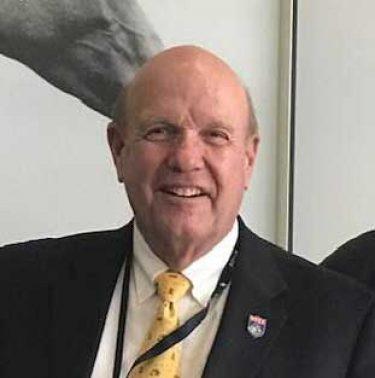 David Schmutz : USEF 'S' & FEI 4* PARA DRESSAGE
David Schmutz was born and raised in Los Angeles, California.  He starting riding late in life, while in graduate school for his MBA.  He had the great opportunity to ride with a very prominent elderly attorney, who needed one of his three horse exercised.  During many mornings, they would meet at 6am where they would ride the trails of Griffith Park in Los Angeles.   After graduate school, David  purchased his own horse, a thoroughbred, and continued training on the Griffith park trails and local jumping arenas.   
While owning and managing  "The Paddock Riding Club" in Los Angeles, he graduated the USDF 'L' Program with distinction and then received his USEF Dressage 'r' certification.   
It was while working on his promotion to become a USEF 'R' Dressage judge, that USEF offered a clinic on judging Para Equestrian riders.  Through the help of international judges Inger Bryant and Anita Own, David obtained his IPEC (International Para Equestrian Committee) approval.  Not long after, the FEI also began approving these types of competitions, Dave received his FEI card as a 3* Para Judge.  He presently holds a 4* certification. 
David continues to enjoy his dual roles as judging in addition to clinics,  helping both able-bodied and para athletes achieve their best.  See more details on his website at: www.gdsdressage.com
Dr. Mike Tomlinson DVM
Mike Tomlinson is a veterinarian based in Thousand Oaks, California who specializes in horses.  Mike is a FEI Veterinary Delegate.